Zenit S.p.A. is a leading firm in the roller manufacture field for printing machines, paper and plastic films for plate treatment processing machines, mud treatment and purification system, and point of reference for the printing and converting machine manufacturers, presents a new anilox inking machine with patent n°0001429383 aluminium sleeves.
In a more and more competitive and demanding market, Zenit S.p.A. is equipped with a system, which is programmed for the control of the productive process and the business quality.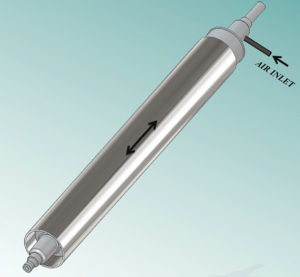 This system guaranties a high-level product with low costs, which satisfies the most various requirements. Thanks to the Property, open to new technologies and continuous innovation, Zenit S.p.A. aims to develop products of ever-higher quality and range.
The reasons that led the company to choose to make shafts that have the possibility to mount sleeves entirely in aluminium, compared to the standard Anilox sleeves (Inking), are basically for a reduction in the costs of buying and replacing sleeves, and an increase in precision, given the stiffness of a sleeve composed solely of a material such as aluminium, reduction of environmental impact and disposal costs, avoiding the use of composite polymeric materials. Already in the design phase, Zenit S.p.A. has been placed the constraint to use the same method of unblocking the sleeve, using compressed air without removing the shaft from the machine, in such a way as to allow the user companies to avoid updates or modifications at a later time.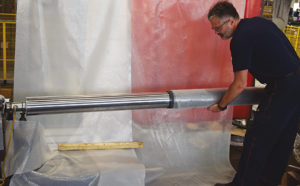 This project developed by Antonino Gasparini (Partner and Industrial Manager) and Marco Solari (Mechanical Engineer and Designer), after tests and optimizations, has led to an excellent result, both in terms of cost, both from the point of view of the practical assembly and disassembly of sleeves.
"This new type of Anilox inking machine, for which we are patent pending, is the result of the skills and experience of Zenit SpA, together with advanced mechanical and IT technology support, such as 5-axis machines 

and CAD / CAM software. In addition to this im­portant news, we celebrate the 50th anniversary with many innovations, new machinery and new software, thanking all customers, suppliers and collaborators who have allowed the achievement of this milestone", concludes Marco Solari.
Article Source: https://www.converter.it/